Now Reading:
Beckham scores in China Hundreds of pupils from a Beijing high school waited for hours in their playground for David Beckham who was visiting as the international football ambassador of China's Super League and the Youth Football Programme.
This is the 20 year anniversary of Chinese professional football and the Chinese Super League also celebrates its 10 year anniversary.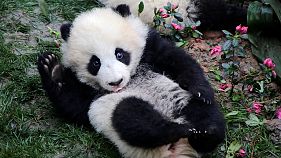 Giant pandas around the globe are welcoming the Spring Festival, or Chinese Lunar New Year, which falls on January 28 this year.