Mahmoud Ahmadinejad has come in for harsh criticism from Iranian MPs after a photo was published showing him consoling the mother of late Venezuelan president Hugo Chavez at his funeral.
One MP said on the parliament's website: "This behaviour of Ahmadinejad (embracing a woman to express his sadness), if someone else had done it he would be accused of treason. Protests with hostile slogans would have been organised in streets across Iran."
Some pro-Ahmadinejad websites insisted that the photo had been doctored; Iranian officials claim that the person in Ahmadinejad's arms in the photograph was Egyptian diplomat Mohamed ElBaradei, and that Elena Frías de Chávez had been added by the Iranian president's opponents. A different photo was circulated on the internet showing Ahmadinejad embracing ElBaradei rather than Mrs. Chavez. This argument is weakened by the fact that ElBaradei, a former head of the International Atomic Energy Agency, is much taller than Ahmadinejad (see archive photo immediately below of Ahmadinejad and ElBaradei).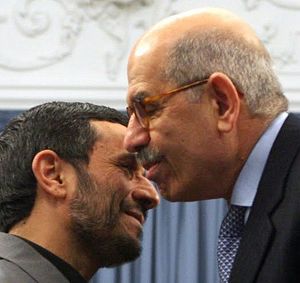 In the latest, more controversial photo, Ahmadinejad appears one head taller than ElBaradei.