12/03/13 18:56 CET
| updated xx mn ago
| updated at xx
1363111019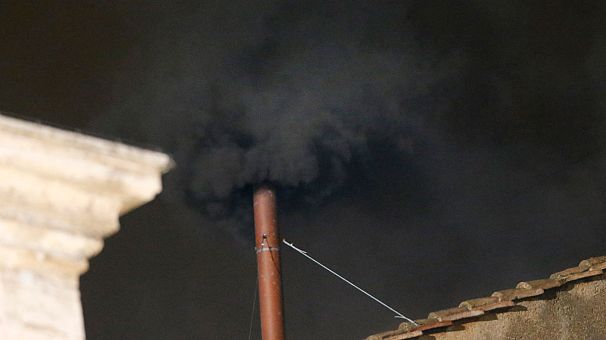 No new Pope has been elected after the end of the first day of the conclave of cardinals gathered in the Vatican.
Black smoke was seen to emerge from the Sistine Chapel, meaning that the 115 cardinals inside have voted without a conclusive result. The conclave will re-assemble on Wednesday morning to continue with the next round of voting. Earlier a last mass was held in the Vatican before the Chapel doors were closed to allow the cardinals to deliberate and choose the successor to Benedict XVI.
There will now be up to four separate votes per day, two in the morning and two in the evening, until one of the cardinals obtains the 77 of the 115 available votes needed to be chosen as Pontiff.
Find out how the conclave works on our 2013 Papal election special page
The smoke seen coming from the Sistine chimney on Tuesday evening is the remnants of the ballot papers used in the first vote. A chemical is added to make the smoke black. When a cardinal is finally elected, that smoke will be white. Soon afterwards the chosen one will settle on his Papal name and the new Pope will be declared.
While there is no clear favourite among the 115 candidates, two names, those of Brazilian Odilo Scherer and Italian Angelo Scola had been mentioned as potential front-runners in the days leading up to the conclave.
The election follows one month after the surprise resignation of 85-year-old Benedict XVI who cited his deteriorating health as his reason for stepping down.
More about: