Now Reading:
Egypt: police station torched Egypt: police station torched
A police social club and the office of the local football federation were torched in Cairo on Saturday by protesters after the death sentences handed down to 21 football fans was upheld by a Cairo court.
They were convicted for their role in the Port Said football match massacre in which more than 70 people died in February 2012.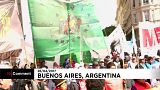 Farmers in Buenos Aires are giving away their produce to people in protest over conditions for small-scale producers.