The results of the Italian general election are threefold, political gridlock, market jitters and a slap in the face for European austerity.
The numbers mean that the country faces stalemate in the coming weeks as former foes try to put hostilities to bed in order to govern a country in difficulty.
The poll has seen another political resurrection of Silvio Berlusconi, who has indicated that his centre-right group may be willing to enter into a grand coalition with Pier Luigi Bersani. Bersani's centre-left bloc won 340 seats in the lower house compared to Berlusconi's 124.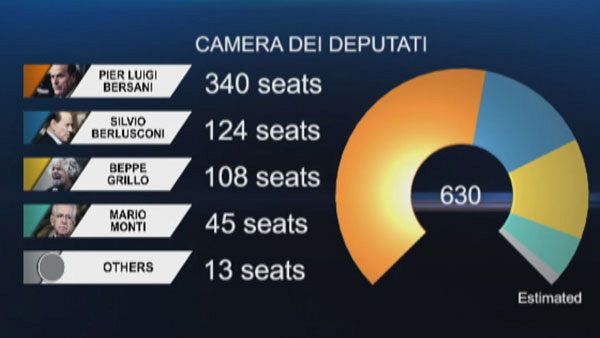 The biggest gains go to the Five Star Movement of Beppe Grillo, which claimed 108 seats in the house. Former prime minister Mario Monti picked up a miserable 45 seats.
It is in the upper house, the Senate, where the problems reside. Berlusconi's group just pipped Bersani by three seats with Grillo once again making headlines by winning a whopping 54 seats.
The Senate is where coalitions need to be forged as any administration trusted to run the country will need a working majority in both houses to pass legislation.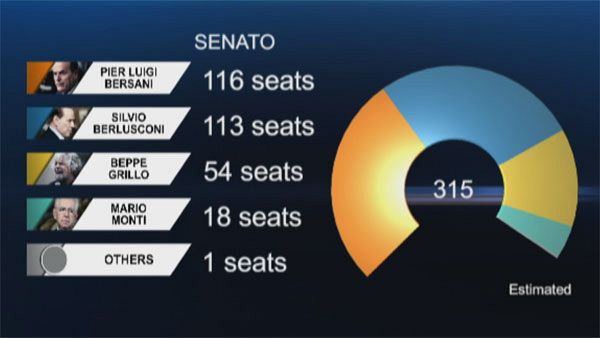 Once again it is a thumbs down for Monti, the EU's preferred choice, with 18 Senate seats.
James Walston, Professor of Political Science, at the American University in Rome, concluded: "This is a limited disaster because something will happen. They have to. They – President Napolitano and the people who have won or almost won – they are going to have to come to some sort of deal. But it is going to be a very painful few months, certainly until there is some sort of stability, assuming that stability arrives."
All views
Get a different perspective
Every story can be told in many ways: see the perspectives from Euronews journalists in our other language teams.