Now Reading:
Meteor explodes over Russia Meteor explodes over Russia
Amateur videos show a meteorite crossing the sky in early morning hours in differents cities of Russia. Residents on their way to work heard a sonic boom, saw a bright light and then felt a shockwave. The meteorite raced across the sky, leaving a long white trail in its wake. Hundreds of people were injured but no fatalities were reported.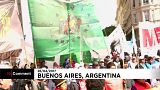 Farmers in Buenos Aires are giving away their produce to people in protest over conditions for small-scale producers.