05/02/13 13:31 CET
| updated xx mn ago
| updated at xx
1360067498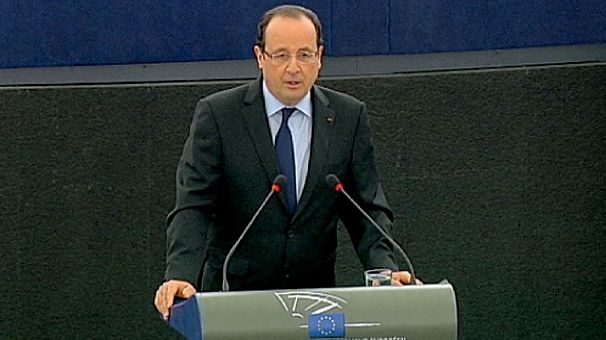 French President François Hollande took aim at British Prime Minister David Cameron on Tuesday ahead of this week's EU budget talks.
 
Hollande, who was addressing MEPs in Strasbourg, hit out at the UK rebate, which London says is a 'red line' for Thursday's negotiations. 
 
"Rebates must stop rising, and in the future the EU will need its own (financial) resources," said Hollande. 
 
"A compromise is possible, but it must be reasonable and therefore we will have to reason with those who want to cut the EU budget beyond what is possible to accept."
 
Britain's rebate was negotiated by Margaret Thatcher three decades ago to compensate Britain for the small amount of agricultural subsidies it receives.
 Spending on farming makes up some 40 percent of the EU's budget. The European Commission has put forward a proposal amounting to one trillion euros.
 
Hollande also told MEPs in Strasbourg that the EU should have the power to raise taxes and spend those revenues in the same way governments do.
 
"Yes, make cuts but weaken the economy, no," he said, stressing that the new budget must also "support the most vulnerable, those most exposed to the crisis, the poorest."
 
EU net contributors – those that pay more in than they get out - including Sweden, The Netherlands and Denmark back Britain's more hawkish stance on spending.
 
MPs in Britain are demanding a real terms cut to the current EU budget for the period 2007-2013, which also amounts to one trillion euros.
 
More about: