Following months of analysis, it has been confirmed that the remains found buried in a council park are those of England's King Richard III.
Richard III, depicted as a monstrous tyrant in William Shakespeare's play, died over 500 years ago.
DNA testing has matched the skeleton to a direct descendent of Richard's sister Anne of York – Michael Ibsen, a Canadian-born furniture maker who lives in London.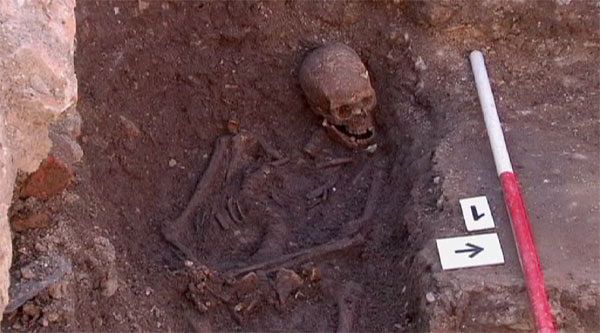 Speaking at a news conference Dr Jo Appleby of the University of Leicester presented the results of the analysis of the skeleton.
"The skeleton has a number of unusual features. Its slender build, the scoliosis (curved spine) and the battle-related trauma. All of these are highly consistent with the information that we have about Richard III in life and about the circumstances of his death," she said.
"In addition, this individual was a man around the age of 32. Taken as a whole, the skeletal evidence provides a highly convincing case for identification as Richard III," she added.
The bones were discovered underneath Grey Friars car park in Leicester in September 2012 during the excavation of a mediaeval friary.
Carbon dating indicates the man died between 1485 – 1550 – consistent with Richard III's death in the Battle of Bosworth in 1485.
Richard's demise ended the Plantagenet dynasty and the War of the Roses.
His death also saw the beginning of the Tudor dynasty, with Henry Tudor becoming Henry VII after his army won at Bosworth.