01/02/13 12:50 CET
| updated xx mn ago
| updated at xx
1359719430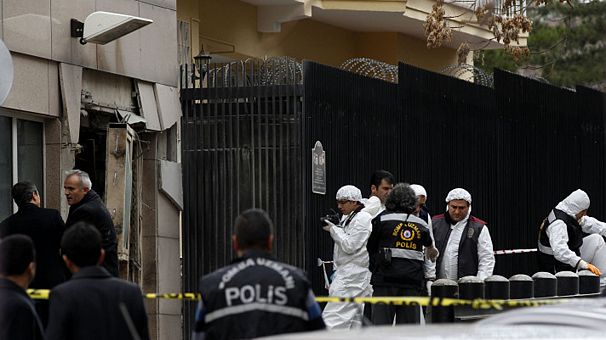 A suicide bombing at the US embassy in Turkey's capital Ankara has killed one security guard and injured several people.
 
The blast targeted a side entrance, where people queue for visa applications.
Interior Minister Muammer Guler said the bomber, who killed himself and a guard, was believed to have been a Turkish citizen.
Guler said a woman was badly wounded in the attack and that two security guards were receiving out-patient care at a hospital.
Ankara Governor Alaaddin Yuksel said the attacker was inside US property when the explosives were detonated. The blast sent masonry spewing out of the wall of the side entrance, but there did not appear to be any more significant structural damage.
 
It is not clear who was responsible. Islamist radicals, far-left groups, far-right groups and Kurdish separatist militants have all carried out attacks in Turkey in the past.
 
The US Embassy in Benghazi was targeted by Islamist militants in September and four Americans were killed.
 
Security has been stepped up at other foreign embassies around the Turkish capital.
US Ambassador Francis Ricciardone said: "We are very sad of course that we lost one of our Turkish guards at the gate." He thanked the Turkish authorities for a prompt response.
"It was a huge explosion. I was sitting in my shop when it happened. I saw what looked like a body part on the ground," said travel agent Kamiyar Barnos whose shop window was shattered around 100 metres away from the blast.
One witness said the blast was audible a mile away.
More about: