29/01/13 15:45 CET
| updated xx mn ago
| updated at xx
1359470707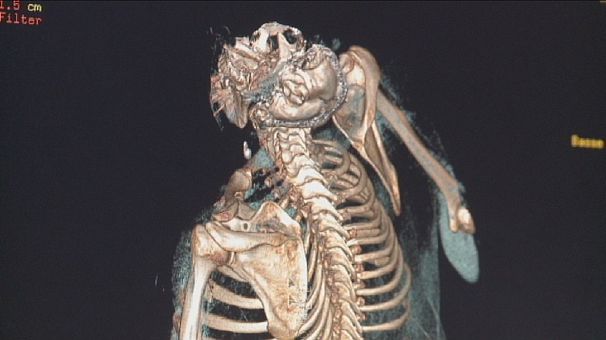 Autopsies are part of the daily routine here at the Timone hospital in Marseille. In fact the morgue here examines some 650 bodies in the course of a year. Today's autopsy is of a woman who suffered death by hanging, and to rule out any suspicion of domestic violence, the court has demanded a medical opinion.
"We can't see everything here, so a scanner would have been useful…" sighs the coroner.
Scanner, the magic word that is on every coroner's lips at the moment, as the technology is now making its way into morgues. Here they have been using one for three years. Welcome to Virtopsies. In a city rife with gun crimes, the technique is used every week.
"It is extremely useful. It saves a huge amount of time, and while it is very nice to have lots of detailed images it cannot replace a traditional autopsy to give us physical evidence of projectiles, although for ballistics studies it is very important," says Dr. Jacques Desfeux.
The technique was born in the USA, using two tools for post-mortem analysis; the scanner to visualise bone structures, and RMI for the soft tissue and internal organs, although that is less used. This means radiologists are taking part in autopsies, guiding the coroner with virtual images before the dissection, or confirming results.
The morgue receives the body is of a man killed by a gunshot, then burned. Despite this every last detail can be examined, not only the projectiles that killed him, but also elements of the crime scene, even his personal effects.
"The shooter was the left backseat passenger, probably left-handed, who stuck his gun in the victim's ear, and the bullet came out here," says radiologist Dr. Guillaume Gorincour. "We scanned the body from head to toe. We are accurate to within a sixth of a millimetre in terms of structure, and we have infinite access in terms of volumes. We can send this data to colleagues for a second opinion. Data can be stored so that, if a case reopens in 10 years time with just a couple of clicks we can access the body as it was on the day of the autopsy, unmodified and with no data loss."
Marseille is not the only city using this technique. Virtual autopsies are also being carried out in Lausanne in Switzerland. Dr. Rouleau is the specialist in this field, perfoming autopsies on babies who have died suddenly. RMI in particular allows her to avoid over-intrusive examinations, and return the bodies to grieving parents more quickly.
"Imagry doesn't allow us to calculate the weight, but we can calculate the volumes, and from that we get the weight. This means we don't need to remove the organs. They can be left in and we can still get the data we need," says Dr. Caroline Rouleau.
Virtual autopsies spare families, religious beliefs, and the bodies themselves, and represent a major advance. Virtopsy is a technology that allows greater understanding, and for sudden baby deaths, can help prevent future accidents.
More about: