29/01/13 14:07 CET
| updated xx mn ago
| updated at xx
1359464833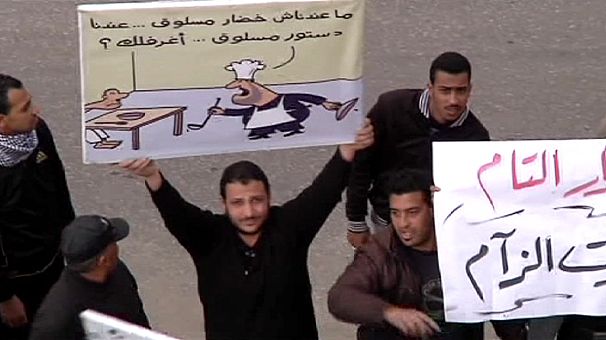 At least three people more people died in overnight violence in Egypt, bringing the official total to more than 50 in recent days.
Most have been killed in the Mediterranean city of Port Said. Amid the funerals for some of the victims, furious protests against President Mohammed Mursi have continued.
Many people defied an overnight curfew, imposed in cities along the Suez Canal.
There is anger at the media, and law and order has all but broken down. Snipers hiding in buildings target people in the streets.
"I lost my son, how can I get him back? He is sleeping now, he had nothing to do with any of this," cried one bereaved mother.
"This is a warning we're sending to the government. Let the whole of Egypt witness it. Next Friday we will all be in the streets. We will occupy the Suez Canal. We are not cowards," said a man, shaking his fist in anger.
Tension boiled over in Port Said after 21 locals were sentenced to death over football violence last year.
Elsewhere too, protesters claim Mursi hijacked the revolution to impose his own autocratic Islamist rule.
Opposition parties have rejected his call for dialogue.
Euronews' correspondent in Port Said, Mohammed Shaikhibrahim said: "The atmosphere in the three Suez Canal cities is like a maelstrom, but it is worst here. Many people see the conflict as not being about politics, but about revenge for the curfew and the death sentences imposed last weekend for the football violence."
More about: