Now Reading:
Mali: Diabaly after the battle Mali: Diabaly after the battle
French ground troops and Malian army soldiers have been securing locations recaptured from rebels. At Diabaly, a town of mud-brick homes 350 km north of Bamako, jubilant residents welcomed foreign reporters and showed them munitions abandoned by the fleeing Islamist fighters. Charred rebel pick-up trucks destroyed by the French air strikes were also visible amid the mango trees.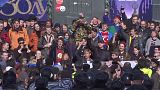 Thousands of people crowded into Moscow's Pushkin Square on Sunday for an unsanctioned protest against the Russian government.