Kim Dotcom's Mega service is set to go live on Saturday, and the internet entrepreneur has taken to Twitter to tell users what they can expect.
Perhaps the biggest treat will be the huge amount of free storage he intends to offer members on the site, which will be hosted at the New Zealand-based domain Mega.co.nz
#Mega will have very generous limits for free users. For example you get 50GB storage for free ;-)

— Kim Dotcom (@KimDotcom) January 17, 2013
This is a massive amount if you consider the meagre 2GB offered by Dropbox, 5GB by Google Drive and 7GB offered by Microsoft's SkyDrive.
The launch of the new site comes on the one year anniversary of his arrest on January 19 2012.
Due to the activities on his former file sharing site, MegaUpload (MU), Dotcom's assets were seized and he and others were charged in the United States with "running an international organized criminal enterprise" responsible for massive worldwide piracy of copyrighted works.
Many thought the case would put him out of the game, but far from it, Kim Dotcom has made clear his intention to give premium status on Mega to former premium members of MegaUpload.
He has also said he intends to transfer the data of MU users to the new site if he can get round the legal issues.
@eff works with us in court on giving MU users access to their files. Our lawyers will seek court permission to transfer MU user data.

— Kim Dotcom (@KimDotcom) January 17, 2013
On the day of the launch Dotcom has promised a "press conference like no other" which will take place at his New Zealand mansion.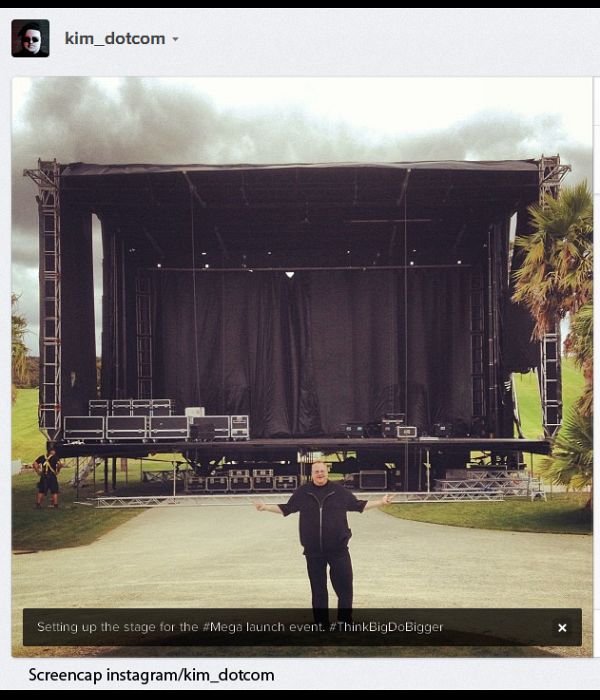 The US Department of Justice (UDOJ) – which is involved in one if its most expensive legal battles in its history to extradite the hacker – will surely be watching closely. Dotcom's extradition trial will takes place in March of this year after legal blunders by the UDOJ and NZ courts.