Europe's aviation safety agency (EASA) has banned the troubled Boeing Dreamliner from taking off.
The US company's entire fleet of 787 aircraft has already been temporarily grounded by US officials after a second incident involving battery failures led to an emergency landing in Japan.
Poland's LOT airlines is the only European carrier operating the aircraft and with other regulators expected to follow.
Japan Airlines says it will switch aircraft for 70 flights that were scheduled to fly on Dreamliners.
Boeing has sold around 850 of the new planes with 50 delivered to date.
Nearly half of those have been in operation in Japan, but airlines in India, South America, Poland, Qatar and Ethiopia are also flying the aircraft.
Boeing's batteries
Boeing's new 787 airliner uses two lithium-ion batteries made by the Japanese company GS Yuasa Corp, with the associated control circuits made by Thales SA. They are part of an auxiliary power unit that provides power while the airplane is on the ground.
Lithium-ion batteries can catch fire if they are overcharged, and once alight they are difficult to extinguish because the chemicals produce oxygen. But Boeing said it designed multiple systems to prevent overcharging, contain a battery fire and siphon smoke away before it reaches the cabin.
The F-35 Joint Strike Fighter, built by Lockheed Martin Corp, uses a similar lithium-ion battery but it is built by a different manufacturer, France's Saft Groupe SA. Lockheed said it did not expect any impact on the plan since the batteries were built by a different company.
The Airbus A350 airliner built by Europe's

EADS

is also due to use a lithium-ion battery made by Saft. That plane is due for its first flight this year.
Several other aircraft, including the Airbus A380 and Boeing's 787, use smaller lithium batteries for emergency lighting and other purposes.
Boeing said the battery it uses on the 787 is about twice as large as a car battery and has been extensively tested, both in the lab and in operation.
The U.S. National Transportation Safety Board said the auxiliary power unit battery that caught fire on January 7 at Boston's Logan International Airport weighed about 63 pounds and measured 19 inches by 13 inches by 10.2 inches.
Problems can occur with the lithium-ion batteries, which contain flammable chemicals, if a short-circuit occurs, if they are overcharged, or if they are put under too much pressure, said Daniel Doughty, a former U.S. government researcher and expert on battery safety.
with Reuters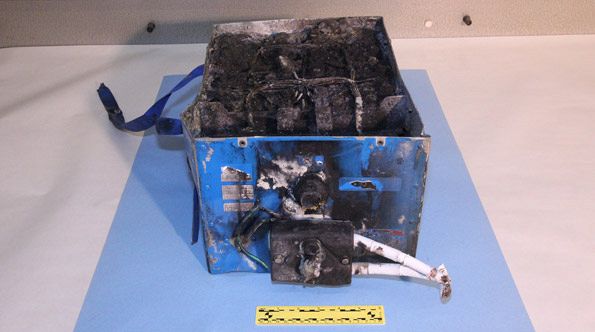 Photo: NTSB
All views
Get a different perspective
Every story can be told in many ways: see the perspectives from Euronews journalists in our other language teams.