Learning the abilities to overcome disabilities
Comments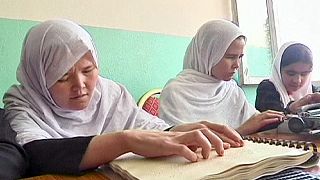 Reading when you cannot see or hitting the dance floor when you cannot walk are tough challenges. But with the right teaching, just about anything is possible.
The UN estimates around 650 million people worldwide live with a disability. Despite all the legislation and scientific developments, in some countries they are still denied access to education, jobs and health care.
But in Beijing there is China's only wheelchair dance school. Whether it is the cha cha cha, the salsa, or an elegant waltz, no dance steps appear too difficult.
They are members of the only wheelchair dance school in China. Founded in 2009 in Beijing, the dancers are able to manoeuvre with ease, grace and speed.
We also report from Afghanistan, where a school in Kabul teaches around 120 blind girls and boys, most of them victims of Afghanistan's war.
They spend half the day learning maths, science, literature and other basic subjects, through touch.
To prepare them for future employment the second half of the day is for vocational training. The government believes there are about 400,000 sight-impaired people in Afghanistan but only a few have access to medical facilities and basic education services.
And in Sierra Leone, how one school in Makeni is using a special way of encouraging deaf children to speak, and not to rely solely on sign language.
St Joseph's School for the Hearing Impaired has been providing education for children with hearing problems for three decades.
The school uses the Maternal Reflective Method, a technique based on how a mother would teach her child to communicate.