Preparations are underway in Honduras to celebrate the start of the new Mayan calendar on December 21. Large scale celebrations are planned at the archaeological site of Copan where a Mayan spiritual leader performed a Maya unification ceremony to mark the occasion.
In Serbia, visitors are flocking to Rtanj, a pyramid shaped mountain 250 km from Belgrade. The normally quiet ski resort has seen hotel rooms booked up with some people believing the mountain has special electromagnetic waves. Locals, however, have been sceptical of the supposed mystical powers.
Meanwhile in China, state media has reported that over 500 people have been detained for spreading doomsday rumours across the country. Authorities have launched a nationwide crackdown on the cult organisation called "Almighty God", which has called for a decisive battle to slay the "Red Dragon" Communist Party.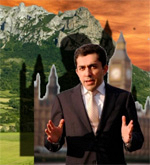 Call me the Apocalypse Correspondent!
Also read: NASA explains why the world won't end
2012 phenomenon: top five end-of-the-world-themed video games