According to a mix of ancient Mayan myth and modern-day internet rumour, Bugarach in southern France will be one of the only place to be saved when the world comes to an end on Friday – when a rogue planet hits Earth.
Numerous UFOs have apparently also been spotted in this tiny town, with a population of less than 200 people.
Intrepid reporters, curious tourists and even the locals are puzzled.
"It's been something that has increased in crescendo, you know, the story of the end of the world in Bugarach. Some things happen here that one cannot explain, that's for sure," said a tea shop owner who lives in the town.
Standing at over 1,200 metres high, Pic de Bugarach mountain holds the key to the town's salvation, but the mayor Jean-Pierre Delord is not relishing the extra attention.
"It is unbearable that so many stories are created about somewhere that seem so utopian. It's unrealistic. Why us instead of other places on Earth?" he said.
Expecting to be deluged by visitors, around 150 police officers will be on duty in Bugarach on December 21, ready to turn people away.
Roads to the mountain will also be blocked. One rumour has it the hilltop will open on the last day and aliens will emerge with spaceships to save nearby humans.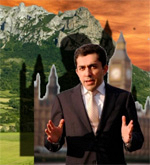 Call me the Apocalypse Correspondent!
Also read: NASA explains why the world won't end
2012 phenomenon: top five end-of-the-world-themed video games