Now Reading:
Milk farmers protest in Brussels Milk farmers protest in Brussels
Farmers have driven tractors in the EU institutions area Luxembourg Square, coming from France, Germany, Netherlands, and of course Belgium to protest about low milk prices. The demonstration has been called by COPA-COGECA, the umbrella bodies for European farmers and agri-co-ops, as anger mounts in member states over poor market returns.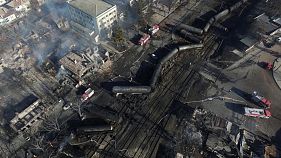 Five people were confirmed dead in northeastern Bulgaria following a gas explosion on a derailed train early Saturday, firefighters in Bulgaria said.