WISE summit announces six new winners
Comments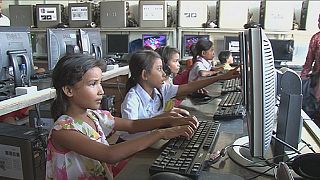 For the past three years, the WISE summit in Doha grants awards to six innovative educational projects from all over the world.
Amongst this year's winners are are the Cristo Rey Network", a US-based organisation that helps poor children from urban areas prepare for college.
They also included Denmark's 'RoboBraille', 'Educar Chile', the "Cambodia Childrens Fund', and the 'Indian Satya Bharti School' programme
Another was Mohamed Rezwan from Bangladesh, who had the idea to set up solar-powered floating schools in flood-prone areas of his homeland.
Euronews met him in Doha to ask about his project's potential.
"Our project has the potential to be replicated in differents settings, in far-flung areas, in waterlogged areas, even in countries that are regularly flooded. So our project can ensure the regular access to education," Rezwan said.
Father Joseph Parkes was a founder of a Christo Rey school in New York. He explains why he decided to get involved in the project.
"I think one of the greatest scandals of the world is the waste of intellectual capital among children of low income families," he said.
"You can motivate them and bring out that native talent that is within them, so they can become productive players as they grow into adulthood and that's really what the world needs."
Each WISE award winner receives a cash prize of 15,000 euros.