Now Reading:
Man versus wild stag in London Man versus wild stag in London
A man in London narrowly escaped the antlers of an angry stag. The stag pursued him after he wandered too close to the herd in a west London park, and the two were caught on camera doing cat-and-mouse rounds of a small tree enclosure. Finally, struck by a sudden inspiration, the man climbed the tree to safety.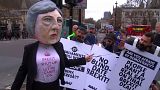 Demonstrators stage a protest outside of the Houses of Parliament ahead of the British PM Theresa May, triggering Brexit with Article 50.