Now Reading:
Etna: the roof of Europe is on fire Etna: the roof of Europe is on fire
Increased activity has been reported at the Mount Etna volcano since Wednesday October the 3rd, but there is sign of an eruption any time soon, according to Italian seismologists.
Etna has experienced nine eruptive events this year. In January, a full-blown eruption of the volcano belched out a plume of smoke that caused a temporary closure of Catania Airport.
Last year, 18 eruptions were recorded by Scientists at the National Institute of Geophysics and Volcanology.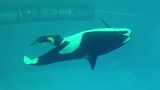 The last killer whale to be born at SeaWorld was delivered on Wednesday, April 19, at the company's San Antonio park.