Now Reading:
Messi in wax at Wembley A waxwork figure of the star Argentine striker Lionel Messi has been unveiled in London. Madame Tussaud's Museum showcased the Messi double on the pitch of Wembley Stadium – the venue of the 2012-13 Champions League final.The waxwork was shaped into Messi's signature goal celebration pose and placed on the pitch at the point where he scored in his team's 3-1 win against Manchester United in the 2010-11 final.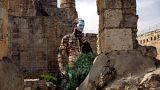 The iconic Tower of David in Jerusalem's Old City is getting a splash of colour.