Now Reading:
South Africa: Miners in court South Africa: Miners in court
The families of more than 250 arrested South African mineworkers have been protesting outside the court where their case is being heard. The men were arrested during violence at the Lonmin mine. At least 34 striking miners were shot dead by police. The accused face a range of charges, including murder, related to the unrest.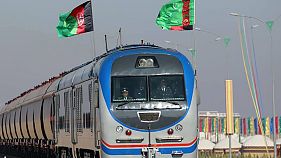 The presidents of Turkmenistan and Afghanistan on Monday officially opened a new railroad that will link the oil-rich former Soviet republic with Afghanistan.