Now Reading:
Syria suffers food shortages Syria suffers food shortages
The conflict in Syria has led to a shortage of essential supplies, with lengthy queues for basics such as bread becoming the norm. In Suran, north of Aleppo, people jostle daily outside the only bakery that is still open. The region has seen intense fighting between Syrian government forces and rebels.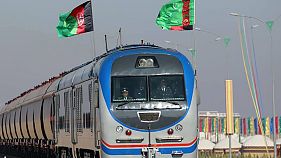 The presidents of Turkmenistan and Afghanistan on Monday officially opened a new railroad that will link the oil-rich former Soviet republic with Afghanistan.