Nearly 1000 sea turtles were released into the Gulf of Thailand, (about 200 kilometres from Bangkok) part of the Thai Navy's campaign to protect them from extinction.
Nine hundred and eighty green and hawksbill sea turtles, between the ages of three months and 15 year-old, were released into the sea from Sattahip, about 200 kilometres (124 miles) from Bangkok.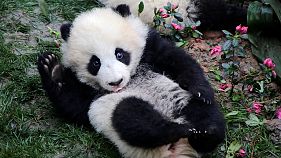 Giant pandas around the globe are welcoming the Spring Festival, or Chinese Lunar New Year, which falls on January 28 this year.