Now Reading:
Haitians anger over home demolition plan Haitians anger over home demolition plan
More than 1,000 Haitians marched through the Caribbean nation's capital to protest against a reported plan to destroy their hillside shanties for a flood-control project before they have found better, more permanent dwellings. Police fired tear gas in an attempt to control the protesters, some of whom threw rocks.
The demonstrators snaked through the Port-au-Prince metropolitan area chanting threats to burn down the relatively affluent district if the authorities flatten their homes.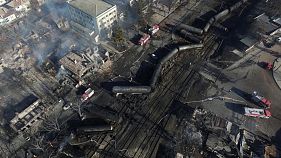 At least five people have died in northeastern Bulgaria following a gas explosion after a train derailed early on Saturday.