Now Reading:
Protests turn violent in Greece Protests turn violent in Greece
Thousands took to the streets of Athens as unions launched a two-day general strike against planned austerity measures on Friday, a day after Greece's crucial international bailout was put on hold by its partners in the 17-nation eurozone. Clashes broke out in Syntagma Square, outside Parliament, as dozens of youths threw stones and fire bombs at police, who responded with tear gas.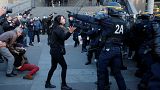 Tensions were running high on Paris' Bastille Square on Sunday night (April 23), at the end of a protest called by left wing militants.