Now Reading:
Opposition rally in Bangladesh Opposition rally in Bangladesh
Bangladesh's main opposition leader and thousands of her supporters held a rally in the capital Dhaka to demand that an independent caretaker government oversee elections. The country's next general election is not due until 2014, but the opposition is trying to pressure the government to announce early polls.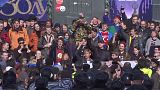 Thousands of people crowded into Moscow's Pushkin Square on Sunday for an unsanctioned protest against the Russian government.