Now Reading:
Occupy movement in Davos The Occupy movement makes its presence felt at  the World Economic Forum in Davos, Switzerland. A small group of protesters greets the 2,600 decision-makers, politicians and managers with an igloo and yurt camp, just outside the 'ring of steel', the security cordon that surrounds the congress centre and luxury hotels.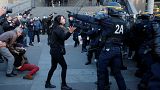 Tensions were running high on Paris' Bastille Square on Sunday night (April 23), at the end of a protest called by left wing militants.